When you get engaged, you may feel like you're on a deadline to complete everything on your wedding to-do list. One essential item on that list is ordering your wedding invitations. But when exactly should you start the process? It's more complex than ordering them a month before the big day, especially since many of your vendors will need a final head count two to four weeks before the event.
To ensure you have plenty of time to choose and order your wedding invitations and other stationery, start the process around eight months before your wedding. However, if you're planning a destination event, start even earlier, at least nine months before the big day. This timeline ensures you can enjoy the process without feeling rushed or stressed. Keep reading to find out the timeline breakdown for ordering your wedding invitations and other essential wedding stationery.
Before Starting the Process
Book your venue to secure your wedding date and time.
Calculate how many people to invite and begin writing up your guest list—this will help you better understand how many invites you'll send.
Finalize the theme and colors of your wedding to help you narrow down designs when you start shopping.
Set a budget for your wedding stationery, including Save the Dates and day-of items.
Wedding Invitation Timeline
When you reach the eight-month mark before your wedding, it's time to start the wedding invitation process. Here's what your timeline should look like:
8 Months Before: Explore design styles and choose your vendor
Your vendor will be responsible for designing and printing your wedding invitations and possibly all other stationery for your big day. It's a good idea to choose a vendor that offers both services and allows you to see sample invitations before you make your decision. This way, you can ensure that the design matches your expectations and the invitations you receive in the mail. Also, check the vendor's processing times to ensure everything falls in place with your wedding timeline.
To explore invitation designs, you can start your search on Pinterest or social media and look for wedding invitation ideas that match your theme and colors. By researching the styles of invitations you like, you can narrow down your options and confirm that your vendor has the right choices for you.
Keep in mind that invitations are more than just a card. Along with your invitations, you may want to consider including the following enclosures:
RSVP card
Reception card
Details card that includes all details for the wedding such as reception, hotel, transportation, and other important information like a wedding website
Additional inserts like rehearsal dinner or welcome reception card
Along with the design, also consider the way everything comes together. For example, use a band or a ribbon to hold your enclosures together. You can also consider adding special touches like wax seals or vellum to make your invitations extra special.
PRO TIP: To make the design process more streamlined and cost-effective, consider whether the vendor you are considering offers suites that bundle various elements together. Some vendors may offer individual items at low prices. Still, once you add additional items such as RSVP cards and other decorative elements, the overall cost can end up being higher than a vendor offering set packages. It is essential to consider the total cost and value of the options available before deciding.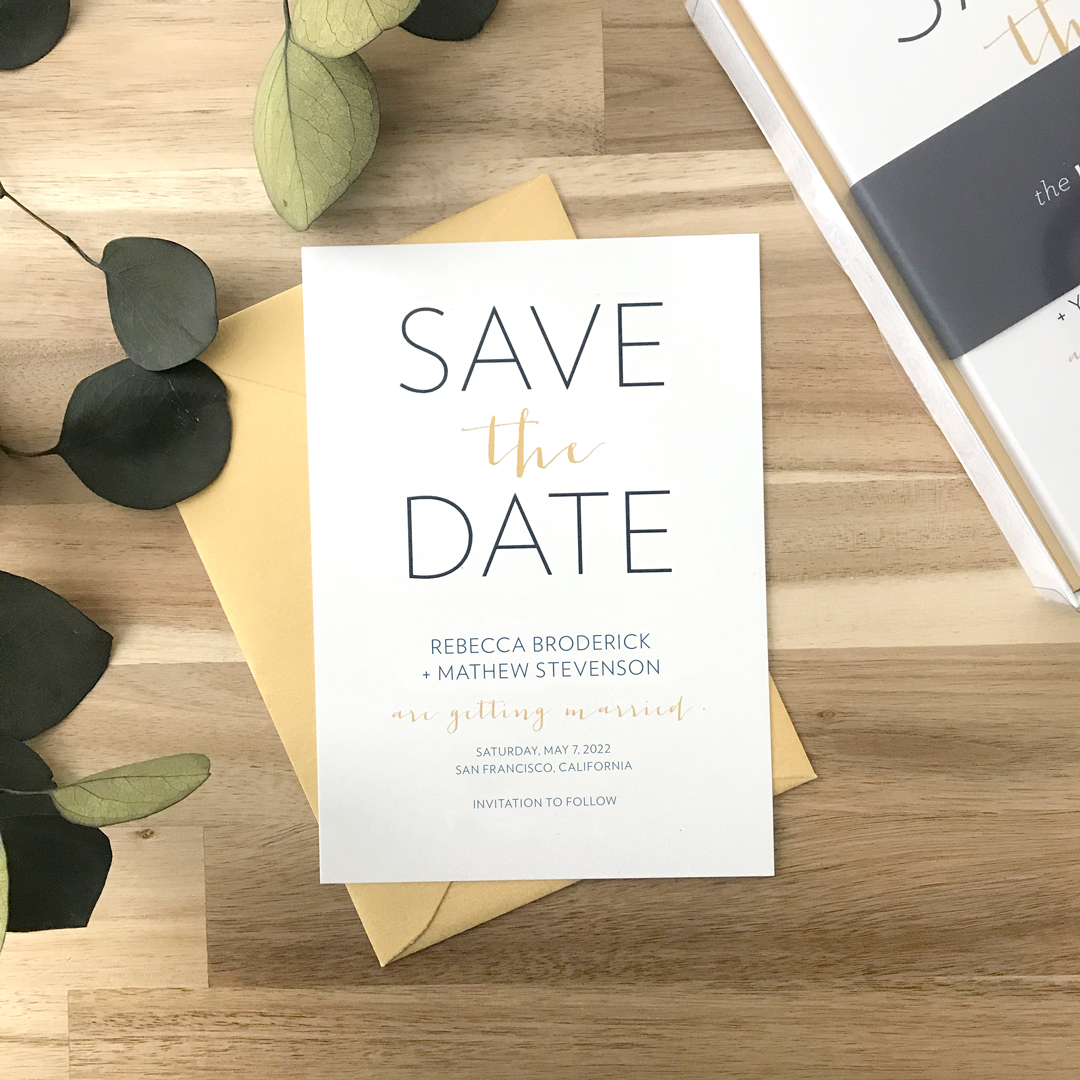 Modern Italia Save the Date by The Loveprint
7 Months Before: Order your Save the Dates
Now that you have chosen a general style for your wedding stationery, it's time to design and order your Save the Dates. Hopefully, your preferred vendor has a coordinating design that can go with your invites, but if not, finding something with similar typography will be just as lovely.
Send out Save the Dates at least six months before the wedding, so your guests know about your upcoming event, especially if they need to start looking into flights. The most important information you want to include is the wedding date and location.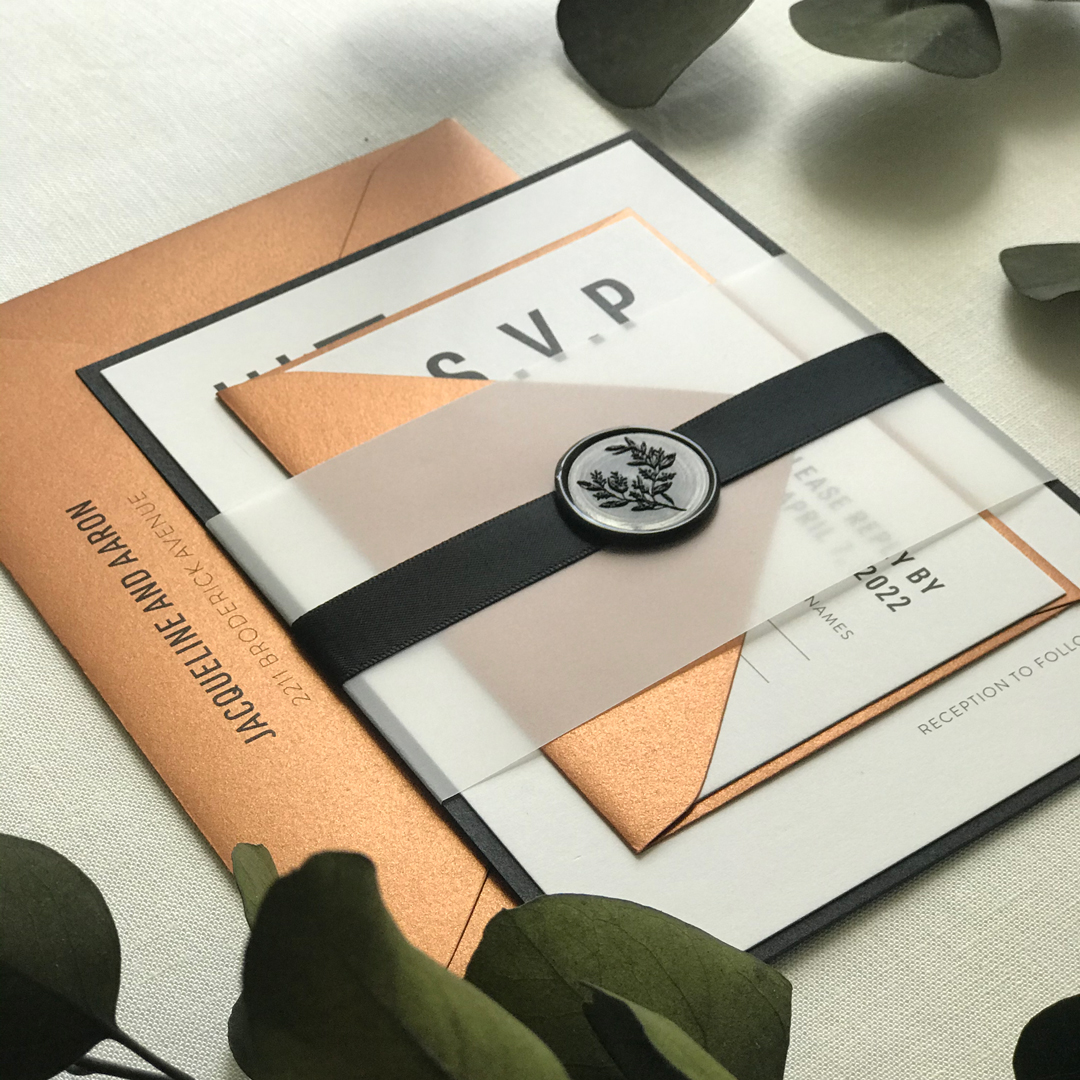 Contemporary Wax Seal Suite by The Loveprint
5–6 Months Before: Finalize the details and order your invitations
With your vendor selected, it's time to narrow down a design for your wedding invitations, decide on the enclosures you'll include, and confirm all the details and wording you'd like to have. Consider requesting sample invitations to help you determine your final choice. Sample kits allow you to see the design in person and assess color, paper options, and other customizations before placing your order.
Once you've finalized those details and placed your order, it's time to bring everything together. It's best to have your wedding details ready since you'll need them to start the proofing phase of your invitation design.
The production and shipping phases depend on the type of invitations you order, the quantity, and your chosen vendor. However, this can typically take between two to four weeks or more for letterpress, foil, or specialized invitation suites. Thankfully you have time. So if you want letterpress, go ahead! That's why you started the process so early.
PRO TIP: Working with a vendor who provides a designer can help make the process easier, especially if you have a lot on your plate with other wedding planning tasks. You can provide the designer with your wedding details and preferences, and they'll take care of the rest.
3–4 Months Before: Mail your invitations
Once you receive your invitations, prep your invites by adding all final touches like postage and other details before sealing and mailing.
When should you mail them? It's a good idea to send invitations eight to twelve weeks before the wedding. Aim for at least twelve weeks before your event for international guests or anyone needing extra time to make travel arrangements.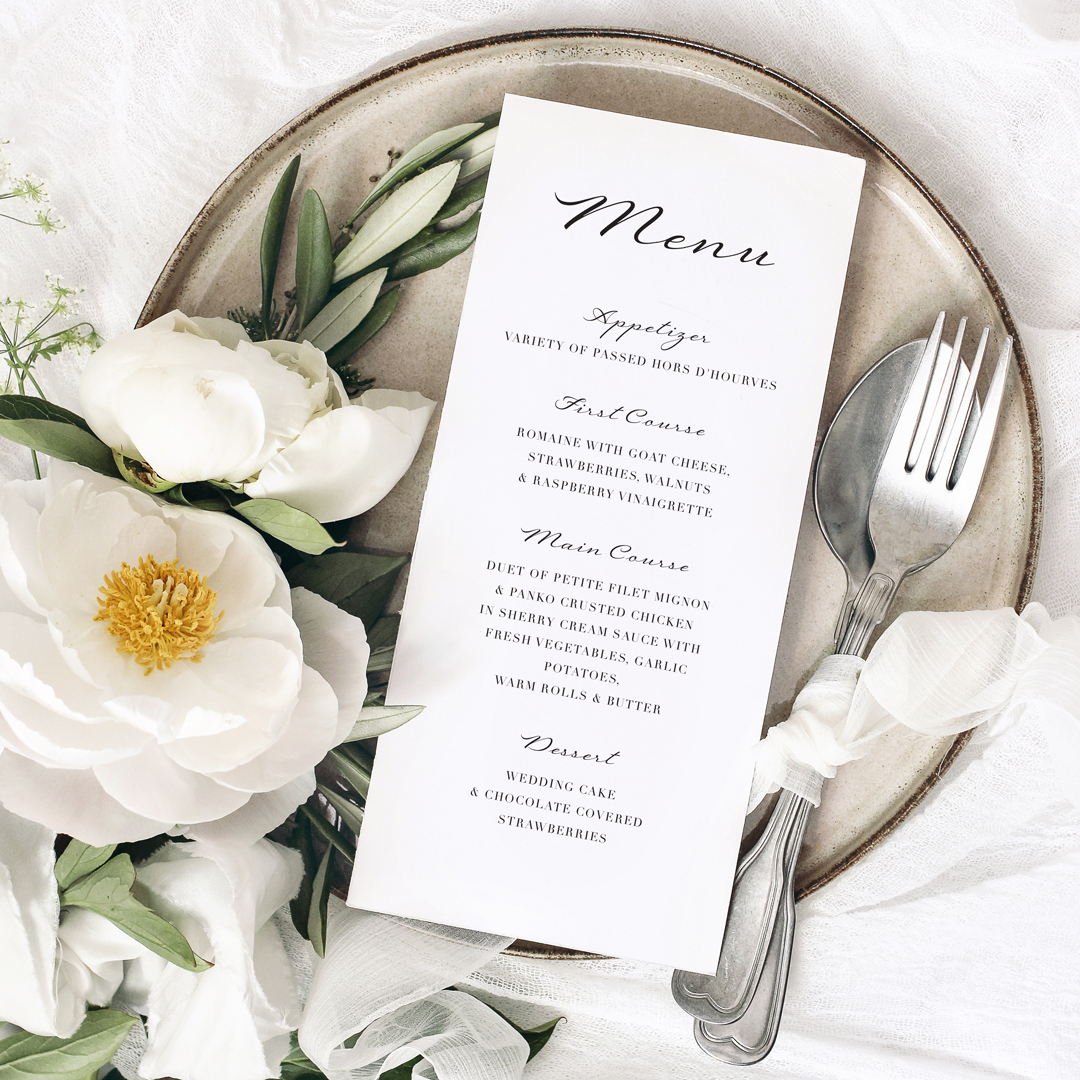 Black Tie Menu by The Loveprint
1–2 Months Before: Decide on the day-of stationery
Your wedding invitations are just part of a more extensive wedding stationery suite. Ordering all your stationery from the same vendor can make the process easier, and you can coordinate the designs for a cohesive, elegant look at your wedding. In addition to your invitations, here's a list of other essentials you should consider for your special day:
Wedding programs
Favor Tags
Table stationery
Menus
Signs
Remember that the quantity for your day-of items should be closer to your overall guest count (not your invite count). That's why we recommend ordering these closer to your big day since you'll have confirmation from most of your guests by then.
Starting the wedding invitation process eight months before your big day gives you plenty of time to design, print, and mail out your invitations, so you can avoid feeling overwhelmed and rushed as your wedding day approaches. Additionally, starting sooner than later allows you to carefully consider your options, make any necessary revisions, and ensure that your invitations reflect your style and the tone of your wedding.
---
Looking for a Wedding Invitation Vendor?
Consider The Loveprint for your wedding stationery! We offer customizable suites in unique formats that include special design details such as ribbons, monograms, wax seals, and vellum bands— and they come fully assembled. You'll work directly with a designer to ensure your suite is perfect and that every detail from beginning to end goes smoothly. We also send you a hard copy proof of your final design, so you know what it will look like before it goes into production.
Have any questions? Contact us at hello@theloveprint.com